The Lord of the Rings: War in the North is a role-playing game in development by Snowblind Studios. It is based on the events taking place in the northern regions of Middle-earth in the background of the main story of J.R.R. Tolkien's Lord of the Rings. Players will take control of one of three different heroes of the war: Eradan, the Dúnedain Ranger, Farin the champion Dwarf, and Andriel, the Elven Loremaster. Players will be able to play through the game alone or cooperatively with up to two others. There is also the ability to adjust the percentage of experience your co-op partner receives.
In a preview article of Playstation Magazine, it has been revealed that you will have certain skills that are upgradeable, characters that can be customized, and dialog will be like Mass Effect without the moral ramifications. The game is scheduled for release in North America in 2011. The game will feature stronger graphic violence than previous Lord of the Rings games and is expected to be the first game in the series to receive an M rating from the ESRB.[1]
Characters
Edit
The three main characters are Eradan, Farin, and Andriel.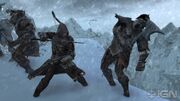 Eradan is one of the dunedain rangers from the north a secret protector of the lands once ruled by his ancestors. Eradan is strong in all areas of warcraft, he is a master archer and swordsman. Eradan is always outnumbered and has learned many evasion tactics to surprise enemies and get out of tight spots
.
Farin is a Dwarf warrior who specializes in melee attacks. He also has a crossbow that can be used for ranged attacks. In addition to fighting, Farin also has the ability to mine for gems. Plus he goes on looking for trouble all the time,charges straight into the enemies.But always comes out victorious once he has those advanced axes eg.: fire damage axe.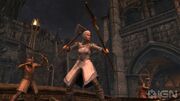 Andriel is an Elf loremaster. She specializes in magic attacks, both for attack and support. Andriel can also use melee weapons such as dual wielding weapons or using a weapon in one hand and her staff in the other. She can also create potions with found ingredients.
Locations
Edit
Other Characters in the game
Edit
Good Forces:
Edit
Evil Forces:
Edit
References
Edit
External links
Edit